Entertainment Weekly
April 20, 2001
WHAT to WATCH

Sunday, April 22..."Just, Melvin" (HBO, TV-MA) Director James Ronald Whitney profiles a man responsible for molesting nine people--his grandfather. [Debut]





Just Shock Me
James Ronald Whitney, vice-president at the investment firm Tucker Anthony, cold easily pass for a Wall Street blue blood. Instead he has written, directed, and produced as award-winning documentary exposing the ghastly truth about his poor white family. In his intimate and disturbing film Just, Melvin, Whitney reveals how his grandfather - a junkyard owner in Northern California - molested then of his children and stepchildren and then apparently got away with raping and murdering the social worker who came to rescue them.
Whitney interviewed his mother about her repeated suicide attempts, and talked with a bevy of prematurely toothless and alcoholic aunts whose lives Melvin destroyed - all of whom recall in excruciating detail how "Grandpa Just" (pictured, with daughter June) started molesting them when they were toddlers.
HBO reportedly paid more for the documentary than it has for any other film. But for Whitney, it isn't about the money: He hopes exposing the family skeletons during National Child Abuse Awareness Month will help advance the cause. The movie airs national on April 22.
-- Nine Burleigh


New York Times
April 15, 2001
[COVER STORY]
Faith, Hope and Clarity: 'America Undercover Sundays,' on HBO

Want pathos, pain and courage? Get real. No scripts. No casting. No rehearsals. Nobody wins a million dollars or is expelled from the outback. Nobody is exposed to Club Med promiscuity or boot camp brutality. And anybody who doesn't survive, well, that means they're dead and documented.
...This is reality television, slice of life stuff, done HBO style. But voyeurs beware: "America Undercover Sundays," the 11th installment documentary series recently given the not-so-dubious distinction of becoming the tough act that follows "The Sopranos," is not for lightweights...That incestuous grandpa named Melvin Just--his grandson, James Ronald Whitney, is the too-close-for-comfort filmmaker here--really does molest his offspring here ("Just, Melvin," next Sunday).
...No reality is too tame--or tawdry--for the series. If it happens, it's eligible...Placing "America Undercover" after "The Sopranos," HBO's most watched series, with an average of 10 million viewers last season, is no coincidence: "This is not a one-time experiment," (Chrism Albrecht, president for HBO original programming) said...
-- By Robin Finn

The Bremerton, WA SUN
Sean L. McCarthy
Kitsap not 'Just' another HBO documentary

You'll see a bit of Kitsap on HBO tonight.

But it's safe to say that the slice of life portrayed in the documentary, "Just, Melvin," is far from ordinary.

If you think "The Sopranos" are a mixed-up bunch, wait until you see the film that follows it at 10 p.m.

"Just, Melvin" is a searing documentary about a family torn by child molestation, drug and alcohol abuse, incest, rape and murder — all revolving around Bremerton patriarch (and some in his family would add, "pariah") Melvin Just.

The film, which made the festival circuit rounds from Sundance to Seattle last year (you may recall reading about the film and family last May), shows how Just's daughters, stepdaughters and grandson seek retribution for his heinous crimes.

Now, Just gets his day in the international court of public opinion.

The documentary is included in HBO's America Undercover series.

And filmmaker James Ronald Whitney (Just's grandson) says the timing could not be better, since April is National Child Abuse Awareness Month.

Whitney and his mother appeared on "Jenny Jones" two weeks ago to promote the film and child abuse awareness.

This past week, all eight of his aunts — including those who still live in Kitsap County — joined Whitney and his mother in New York City for a screening of the film sponsored by HBO and Childhelp USA.

Whitney told me it was the first time "all nine of the girls" had been together.

Appearances also had been lined up with "Court TV" and "The View."

It's all part of a new wave of publicity for "Just, Melvin" and for the need to speak out against child abuse and molestation.

Last year, the film won best documentary honors at film festivals in Santa Barbara, South Beach, Newport Beach and Vancouver, British Columbia. Whitney was nominated for an Independent Spirit Award in the "Truer Than Fiction" category.

Two weeks ago, famed Chicago film critic Roger Ebert gave "Just, Melvin" a thumbs up, calling it "one of the angriest, most painful documentaries I have ever seen — and it's one of the best. ... You have never seen anything like it."

"Just, Melvin," overwhelms you so much that you have to rethink your strongly held position that the setups on "Jerry Springer" are fake. Well, maybe some of them still are.

But the Just family is very, very real.

Hanging out with his family this week in New York, Whitney said he could, "for the first time in my life, see an attempt at making progress" to break the family's cycle of abuse. Whitney has noticed something else, too, about his aunts.

"They've already been recognized here in the street ... so it's leaving an impact on them, and it hasn't even aired yet," he said.

When the credits stop rolling tonight, a new coda appears — Childhelp USA's hotline, (800) 4-A-CHILD.

"There are a lot of adult survivors out there who haven't gotten the courage to speak up," said Rebecca Heller, Childhelp USA spokeswoman. "We hope people see the hotline and decide to call."



Research Magazine
May 2001
[COVER STORY]
Broker Benefactors

A look at those...who contribute as much or more to civic and community causes as to helping their clients...these broker-heroes are as successful on the business side as they are in making a difference in the lives of others less fortunate.

...HBO last month broadcast "Just, Melvin," the award-winning documentary written and produced by Tucker Anthony financial advisor James Ronald Whitney about generations of sexual abuse in his own family. Whitney will be honored May 22 with a humanitarian award for the film, which has been championed by child-abuse advocates and lauded by film critics in several countries.

...With the disturbing documentary, "Just, Melvin," James Ronald Whitney...engages in the rarest kind of disclosure--that his maternal grandfather, a convicted child molester, sexually abused all 10 of his children and stepchildren, some from the age of 2 and 3. A few of the children grew up to become child abusers themselves. Whitney himself was molested by an uncle when he was 4. In their own voices, Whitney's mother and aunts talk about their demons--suicide attempts, drug and alcohol abuse, prostitution in some cases. And Whitney reveals a few demons of his own. When he was younger, for instance, he pretended his mother was dead so that if she did kill herself it wouldn't hurt so much.

But as he says in the film that Roger Ebert called "one of the best docs" of 2000: "We can't just sit back and act like victims, or we become the losers. It's all about finding a way to survive."

Whitney, a star broker in Tucker Anthony's Wall Street office, began making the movie, his first, in 1997--writing, directing, editing and producing, all in the hours after the stock market closed.

"This is a wake-up call to society to say, "Hey, [children] do remember. [Children] who are abused do remember. In the case of my family, they never had childhoods, adolescences, or adult lives that were clean and sober. They choose to live in a world of fog," he says. "If they lived with perfect clarity, they'd have to face what happened."

In the film, Whitney even interviews his grandfather, a chilling confrontation that is as uncomfortable as it is unforgettable.

"He was obviously very courageous to make this film because it's not only about the subject of incest, but about his own family," according to Karel Amaranth, executive director of Victim's Assistance Services of Westchester County N.Y., a non-profit that will honor Whitney with its Art of Vision award this month.

...A former TV-quiz-show sensation and professional dancer...Whitney's second documentary, "TheWorkingGirl.com," due out [soon], is about a friend in the cyberporn industry. His third film will revisit his own family, this time, his Hell's Angel father.

Whitney says his dual roles as stockbroker and documentary filmmaker keep him grounded. "our brain has two hemispheres. One side is artistic and creative, the other empirical. They are inextricably interwoven to me. It completes the balance."
-- By Ellen Uzelac



New York Times
May 4, 2001
Safe on the Outside

(Or So You Think)...part of (HBO's) "America Undrcover" series, recently given prominence with a 10 p.m. Sunday time slot, following HBO's jewel, "The Sopranos"...the "Undercover" series isn't a muckraking operation--at least not in the classical sense. These documentaries aim to expose unusual and often unpleasant (and sometimes odious) corners of American life, but not to reform them. Their subjects have included sexual abuse of children ("Just, Melvin"), Internet hatemongers, faith healers ("Miracles"), prostitutes and now, mental illness ("Bellevue: Inside/Out").

Are these documentaries (at least some of them) simply television's version of the old Coney Island freak shows? They are unnerving because we are invited to peep without being proselytized. This unvarnished voyeurism doesn't try to legitimize our prurience with a call to action. They seem to say: peeping itself can be a valuable exercise. Much of the human condition is vile (or difficult or weird). Why pretend otherwise...Putting a lens in the face of evil is an important form of indecent exposure (...making us co-dependents as well as voyeurs.)

HBO tries to offset the rawness by occassionally...providing links on the Internet to organizations dedicated to the issues certain documentaries examine. When the cable network showed "Just, Melvin," [director, James Ronald Whitney's] exploration of his own family's rampant child molestation, the toll-free number for an abuse hotline was posted onscreen after the documentary. For its suicide documentary, HBO joined with the National Alliance for the Mentally Ill to distribute information about suicide.

The desire to look at the forbidden is acceptable, even welcome, in fiction. Explaining the appeal of "One Flew Over the Cuckoo's Nest," the film critic Pauline Kael wrote, in 1975: "We all fear being locked up among the insane, helpless to prove our sanity, perhaps being driven mad; this fear is almost as basic as that of being buried alive. And we can't formulate a clear-cut difference between sane and insane."...
-- By Julie Salamon


St. Petersburg Times
April 22, 2001
One pedophile, many broken lives

In a harrowing documentary, one family tells a painful story of childhood abuse and its unending effects.

For a guy who seems to have so much going right in his life these days, James Ronald Whitney isn't having the greatest morning.

Talking to a reporter about Just, Melvin, his intimately personal film about the grandfather who sexually molested his 10 children and stepchildren (including Whitney's mother), the filmmaker finds his cell phone connection from Manhattan to Florida constantly cutting out.

When the reporter calls back for a third time, there's more bad news: Part of the hotel where Whitney has housed his eight aunts and mother, who last week attended HBO's lavish screening party, is on fire. All he knows so far is that one of his relatives caused it.

Still, once Whitney determined that nobody was hurt and the fire was under control, he was ready to finish the interview.

After all, for a guy who's seen his own mother attempt suicide too many times to count, a stray hotel fire barely breaks his stride.

"Well, there's lots of things that (might seem) pretty traumatic for some people," said Whitney, 37, who initially believed his mother's suicide attempts were rooted in his father's abandoning the family with his wife's best friend. "In our family, that's a Tuesday morning."

Just, Melvin documents the emotional wreckage created by Melvin Just, a mechanic in a small northern California town who consistently molested his own children and stepchildren by two different women.

According to the victims' recollections, Just also prostituted them to other pedophiles, eventually raping and murdering a nurse- social worker who tried to protect them.

Evidence of the fallout unfolds throughout Whitney's film. Each of Just's daughters and stepdaughters has attempted suicide, struggled with substance abuse, fallen into prostitution and homelessness, and more. Few of them can point to many periods of stability or productivity in life.

In one of the film's most telling moments, Whitney's Uncle Jim - one of Just's stepchildren - calmly discusses offering to let one of his half-sisters share his home as his wife to avoid homelessness.

"I think that two consenting adults . . . whatever they deem is right, is right," Uncle Jim tells the camera. "To have sex with a . . . sister, I don't think that's all that wrong."

This is how Whitney illustrates the enduring cycle of abuse that has devastated his family and many others. There's no gravel-voiced narrator to lead viewers anywhere; instead, the voices of Whitney, his aunts and other relatives form the framework of the story.

Whitney's mother, Ann Marie, tells of trying to shoot Just while he was beating her mother, only to discover that the gun was empty. One aunt tells a story of being taken near a garbage dump to have sex with other pedophiles; another says her mother took diapers off a baby sister to lay her in bed with a naked Just.

"Grandpa Just destroyed my family and almost destroyed my mom," Whitney narrates to the camera over footage from one of his Star Search dance competitions (an appearance he made minutes after learning that his mom had tried to suffocate herself with car exhaust). "When I'm finished with him, he'll either be in jail or he'll be dead. That's a promise."

Yet Whitney, who serves as co-writer, co-producer, director and co- composer on Just, Melvin, insists he's not angry about his grandfather's crimes, which earned Just an eight-year prison sentence for child molestation in the late '70s.

"Instead of being angry, spinning around in circles going nowhere, I have disgust that I've turned into something positive," says the filmmaker, who also works as a stockbroker for a Wall Street firm. "I have much more satisfaction."

Just, Melvin caught HBO's eye during the Sundance Film Festival, where Chicago Sun-Times movie critic Roger Ebert championed the film (on his TV show At the Movies, Ebert called it "one of the angriest, most painful documentaries I have ever seen . . . and it's one of the best."). Though it didn't win a prize at Sundance, it did take honors at film festivals in Santa Barbara, Calif.; Austin, Texas; Vancouver; and others.

Sheila Nevins, the executive who heads HBO's America Undercover documentary series and helped shape Just, Melvin for TV, says Whitney's documentary exemplifies the kinds of films she's planned for America Undercover's first regular time slot on HBO's schedule.

In the past, Nevins' documentaries might air any time on the pay cable channel. But executives decided to give America Undercover a regular home after The Sopranos for 11 weeks, funneling viewers from HBO's biggest hit into documentaries about dwarfs, killers of abortion doctors and Melvin Just.

"It's sociology meets archaeology meets television," says Nevins, noting how Just, Melvin fits into HBO's vision of documentary filmmaking. "It's not a newsmagazine piece, and it's not interrupted by commercials. You can stay with this family until it's unbearable."

Whitney blends in kitschy clips of himself (in full, feather- haired, 1980s mode) competing in Star Search's dance contests and game shows, breaking the tension from his family's harrowing tales. Using surround sound, he sprinkles shards of sonic touches throughout the film, re-creating the sounds of Just yelling at his children or assaulting the nurse in the background of certain scenes.

But even though he often faces the camera himself to relate matter- of-fact stories of abuse - including his own molestation by an unnamed uncle at age 5 and a sexual encounter with a 9-year-old cousin two years later - Whitney accepts no praise for his family's painful honesty.

"Getting to the heart of an issue is what my family is about," he says. "We're okay going down in those valleys because, ultimately, we're going to find a top."

According to Whitney's relatives, Just would make a game of his molestations, telling the children to "play horsey" or giving them money, which he would increase according to the child's actions.

According to several of Whitney's relatives, when nurse Josephine Spegel threatened to take away the children during an unannounced visit in 1969, Just raped and killed her as some of his children watched, burying the body in a remote location. He was never charged in that incident.

By the time Whitney confronts Just, he's in a wheelchair and living in a nursing home. For the price of a McDonald's Big Mac and fries, Whitney lured his grandfather to a waterfront boardwalk, peppering him with questions about the abuse allegations.

Just denied it all. And a few weeks later, he was dead.

"My mom said the most satisfying thing for her was seeing me get in Melvin Just's face," says Whitney, who runs the film's credits over bittersweet footage of his aunts getting drunk and insulting Just during his funeral. "All those years later, he was finally called on it."

Just, Melvin also presents a horrifying picture of poor, rural family dysfunction that lives down to the worst stereotypes. But Whitney, who copunters that he can't bother with being "politically correct," simply rolls the camera and lets his relatives speak.

The filmmaker denies feeling any anger, but Just, Melvin nevertheless seemed drenched in frustration and pain, fueled mostly by Just's cruelty and the inability of any adults to stop it.

Whitney, a former Chippendale's dancer, is a talented pianist who says he stumbled into a finance career while helping successful friends manage their money. These days, he juggles a Wall Street career with work writing musicals and completing a new film, TheWorkingGirl.com, about children whose mother is a porn star.

And even as he admits that his tragic past fuels his competitive drive, Whitney hopes Just, Melvin educates adults about the unending, destructive cycle of abuse one brutal pedophile can spark. (Whitney includes a link to the charity Childhelp USA on his Web site for the film, JustMelvin.com.)

"The idea for this is to serve as a wake-up call to society," says Whitney, noting that April is National Child Abuse Prevention Month. "We call it child abuse, like (the effects) end at childhood. But even now, (none of his aunts) have had clean or sober or functional lives."

In the documentary Just, Melvin, Melvin Just's family says he sexually molested his nine daughters and some of his stepchildren. Just, above, with his daughter June, was sentenced to eight years in prison in the 1970s.

With the bribe of a McDonald's hamburger, filmmaker James Ronald Whitney lures his grandfather, Melvin Just, above, to a pier for a confrontation. When peppered with questions about his crimes, Just denied everything. A few weeks later, he was dead.
-- Eric Deggans


VARIETY
March 23, 2001
Independent Spirit Awards:
16th edition of indiewood's answer to the Oscars...

Remarkable stories coupled with insightful visions define the feature documentaries nominated for this year's DirecTV/IFC Truer Than Fiction award, to be presented at the IFP Spirit Awards on Saturday.

The film's subjects range from a soft-spoken intellectual and former cannibal to a chain-smoking underground performer to one of Andy Warhol's Factory entourage to a family devastated by incest...This year's finalists in the juried competition are Vincent Fremont and Shelly Dunn Fremont for "Pie in the Sky: The Brigid Berlin Story," David Shapiro and Laurie Gwen Shapiro for "Keep the River on Your Right: A Modern Cannibal Tale," James Ronald Whitney for "Just, Melvin," and Jem Cohen and Peter Sillen for "Benjamin Smoke."

| | |
| --- | --- |
| | ..."Just, Melvin" is a real-life horror story in which director Whitney examines the cycle of abuse that has perpetrated itself from generation to generation in his own family. "It's called child abuse but it doesn't end with childhood," says Whitney, whose aunts and step-aunts were abused by his grandmother's second husband, Melvin Just. The residual effects of alcoholism, prostitution and drug addiction are made plain in the psychological post-mortem. |

Whitney wanted the film to be accessible: to be both eye-opening and entertaining. Moments of comic relief come from the family gatherings and appearances on game shows by Whitney which are in stark contrast with an unnerving portrait of evil personified. "The court system failed us. We've tried him ourselves with audiences," explains Whitney of the film's indictment of Just.

Audiences at each of the twelve film festivals in which the docu has screened have responded strongly to its content: it has also won six festival Awards. "Just, Melvin" will air on HBO on April 22 during the prime post-"Sopranos" time slot (Sunday at 10 p.m.). Whitney hopes the film will continue to awaken audiences and empower now-silent victims to seek help.
-- By Kathy A. McDonald



New York Times
April 30, 2000
A Broker's Painfully Personal Trail



NEW YORK -- On Wall Street, intimate self-disclosure usually involves the size of your co-op apartment, the price of your car or the perils of your $20,000 trek through the Andes.

But for James Ronald Whitney, 36 and a star broker at Tucker Anthony, it involves telling how his maternal grandfather sexually abused Whitney's mother, uncle, aunts and step-aunts, some from the age of 2, they said. And telling not just his friends and business associates, but also the world, through a feature-length documentary film, "Just, Melvin," shown at the Sundance Film Festival in January, praised by Roger Ebert as "one of the best docs of the year" and recently sold to HBO, which plans to show it in 2001.

| | |
| --- | --- |
| "The film is about a courageous family, my family, who has a powerful and chilling story to tell about the abuse they suffered because of my grandfather," Whitney -- Ron to friends -- said in a conversation at his 3,000-square-foot downtown Manhattan loft. | |
"I want it to serve as a wake-up call to society and as a warning to those monsters like my grandfather who are still out there."

So far, no one -- neither clients nor colleagues -- has been put off by a film whose tone is so contrary to a universe-mastering culture.

"I was shocked that he opened himself up to the straight-backed guys on Wall Street," said Jeanne Moos, a CNN correspondent and a client of Whitney. "But the film actually convinced me to invest with him. You have to invest with someone, and when I saw the film, I was impressed with that."

Executives like Rakesh Khilnani, a Tucker Anthony senior vice president who has worked with Whitney since 1994, were sympathetic. "It's serious stuff that was happening in his family," Khilnani said. "We don't take it lightly. But it's important that it be spoken about."

The idea for the film began brewing three years ago as Whitney's maternal grandmother lay on her deathbed. He decided that it was time to explore a forbidding topic: how his grandfather, Melvin Just, a mechanic from Carlotta, Calif., traumatized his family. Whitney wanted some answers.

"He molested my family, including my mother, and made her suicidal," Whitney said, adding that his parents had split when he was nine years old. In some of the movie's most emotional scenes, Whitney confronts his grandfather, who died at 71, shortly after filming was completed. Just denies all the accusations. In 1979, he was convicted of 12 counts of child molestation in his family and sentenced to 13 years in prison. He served less than nine years in a state prison in San Luis Obispo, Calif.

On camera, aunts of Whitney discuss drug and alcohol problems as well as being molested. Three of them also say they witnessed Just rape and murder a social worker who was assigned to protect the children from him. Although Just was a suspect in the killing, he was never charged in the case, which remains unsolved.

"It's possibly too honest for some people," Whitney said of the film. "But I think society is ready for some honesty."

Whitney, who is divorced, worked on his film during free time and on vacations, traveling around the country to interview relatives, many of whom he had not seen in years. The film won the best documentary feature award at the Santa Barbara International Film Festival and Newport Beach Film Festival.

Still, he always kept a finger on the stock market. At the Sundance festival in January, he had a cell phone in his hand as he conducted interviews.

"CNBC was my alarm clock," he said. "In the mornings, I equally grabbed the entertainment and business sections of all the newspapers. I knew when Coke was getting rid of 1,200 employees."

With no previous filmmaking experience, Whitney, who grew up in Las Vegas and studied economics at Arizona State University, invested nearly $500,000 of his own money to produce "Just, Melvin," which he also wrote and directed. HBO agreed to pay what a spokeswoman said was "six figures" for the film.

"Between the monetary Awards from festivals and the HBO deal, the film is in the black," Whitney said, although he declined to give specifics.

Whitney was already used to being before the public. As a dancer, he was a contestant on the "Dance Fever" and "Star Search" television shows in the mid-1980s. In the film, he is seen competing on television game shows and performing with the Chippendales dancers.

Even while performing as a dancer, Whitney ran a frozen yogurt and ice cream shop in Los Angeles, among other small businesses, and gave investment advice to friends. He passed his brokerage license exam in the early 1990s. After working for a smaller firm, in 1995 he joined Tucker Anthony, the banking and brokerage firm that was formerly part of John Hancock Mutual Life Insurance. "My mom raised me to be an overachiever," he said, a Cheshire cat grin spreading across his decidedly clean-cut, innocent features.

Given his critical success, he is already at work on another film, about a friend who is involved in the cybersex industry. But he is keeping his day job, which he says thrills him. "I get so excited by empirical data," Whitney said. "That's why I'm a stockbroker. I like to solve puzzles. Market hours are play time for me. It's like one big game show that begins at 9:30 a.m. It's like the final round of 'The $25,000 Pyramid,' because it's so time-sensitive. During market hours, as 4 O'clock approaches, I get sad."

Besides, he can put the money to a good use. "My financial success on Wall Street," he said, "has allowed me to afford my creative outlets."
-- Abby Ellin


Producer Profile
James Ronald Whitney
Tackling tough subjects, from sexual abuse to cyber porn
October 2000

James Ronald Whitney is something of an anomaly among feature doc producers - he isn't constantly worried about money. A stockbroker by day and filmmaker by night, the New York-based producer/director is in the process of wrapping his second feature documentary project, TheWorkingGirl.com (Fire Island Films). As with his first film Just, Melvin, which premiered at this year's Sundance Film Festival, Whitney didn't seek finishing funds or pre-sales. "The market has treated us very well," he explains.

From 9:30 a.m. to 4 p.m., Whitney happily maneuvers the money markets as vice president of Wall Street firm Tucker Anthony. "During market hours, it's the most exciting way I could imagine spending a day," he says. "[But] once 4 p.m. comes, nothing excites me more than filming or editing or composing music or writing, and going into the film spectrum."

The idea for TheWorkingGirl.com, a documentary about his friend Sharon Alt's foray into the cybersex industry, came after she sought Whitney's financial advice. He explains: "[Sharon] had started an adult entertainment site that features her and her boyfriend and the problem was that she wasn't getting enough hits on the site." Whitney became intrigued by the people of the porn industry while researching ways to make Sharon's internet venture more successful and decided to make the film. (He will also launch a companion Web site.)

Whitney has teamed with Julie Cooper, a producer with u.s. broadcaster ABC (who is also working on the project independently of her day job), to finance the feature doc. He estimates the budget will come in under us$500,000.

Working Girl is a significant departure from the filmmaker's first doc project. For Just, Melvin, Whitney turned the camera on his own family to explore the painful legacy of sexual abuse at the hands of his maternal grandfather, Melvin Just. His directorial debut was well received at Sundance and went on to win first prize at several u.s. film festivals including Santa Barbara, Newport Beach and South Beach. It also caught the attention of HBO execs Nancy Abraham and Sheila Nevins.

Whitney entered into talks with HBO in early February and concluded the deal in May. He adds, "I was in the black after this deal," though he refuses to elaborate. Whitney describes the deal as equitable, but says money wasn't the key factor. "This was a hugely personal story for me," he says. "Reaching the widest audience possible was my primary objective."

Whitney was also pleased with the terms the cablecaster offered. "The HBO rights are simply u.s. broadcast, video and other media, but not theatrical. I'm looking at offers theatrically in the u.s. and the rest of the world, and I also have the rights for broadcast and video [outside the u.s.]." As part of the agreement, Whitney adds, HBO is responsible for ensuring Just, Melvin qualifies for Oscar consideration. This entails a theatrical run of at least seven days in New York and Los Angeles, followed by a six-month delay of the TV broadcast.

When time allows, Whitney continues to work on a documentary about the other side of his family, called Dad (w/t). Whitney was nine when his father left to become a Hell's Angel. Later, his father married Melvin Just's sister. Whitney saw his dad for the first time in 23 years when he interviewed him for Just, Melvin. "It's all on film - the reunion, the questions I asked him. It was quite an experience."
-- Susan Rayman



London
Time Out (London)
January 24-31, 2001
WHAT'S UP DOC
Small-screen documentaries hit the NFT (National Film Theatre).

In among the current glut of themed or city film festivals...segments have included work from the likes of Errol Morris, Fred Wiseman, William Klein, Michael Moore, Molly Dineen, and John Grierson...recent releases here include 'Hoop Dreams,' 'Buena Vista Social Club,' 'Lacho Drom,' and 'One Day in September'...In 1999 the (Sheffield) festival started selecting highlights for...the NFT (National FIlm Theatre) this week (Thurs-Sun), with some of the titles showing at the Ritzy thereafter. It's a hugely impressive package...these films demonstrate a truly cinematic range and ambition and, as you might expect, portray the full fecundity of human experience. If they share anything, alongside the increasing application of narrative strategies to non-fiction scenarios, it is perhaps a sense of risk missing from much fictional feature-making: 'Just do it' could well be the manifesto these eclectic directors (Patricio Henriquez's 'Images of a Dictatorship,' Julia Query's 'Live Nude Girls Unite,' and James Ronald Whitney's 'Just, Melvin') would sign up to.

| | |
| --- | --- |
| | ...Take for example...the harrowing and revelatory 'Just, Melvin' (pictured). Through interviews with four generations of honest and courageous women, former TV quiz sensation, show dancer and Chippendale James Ronald Whitney reveals the emotional devastation wrought by the monster at the heart of his family; his grandfather, serial pedophile, Melvin Just. When the audibly prefigured key encounter takes place, there are no easy answers, no cut-price redemptions. Pain so deep in the bone doesn't just melt into air, and nowhere is this more evident than in the bleak, survivalist humour and complex emotional responses to the film's climactic event. |
If the season consisted of only these three titles, it would be well worth attention...In these deprived times for imaginative British film initiatives, It's heartening to see such genuine commitment to pictures like this which, whether personal or political, have art and heart and show what film can do when it gets down and dirty with reality.
-- Gareth Evans


London
Time Out (London)
January 24-31, 2001
Critics' choice

Repertory &
special screenings
Critics' choice
Happiness ('Pi')
Riverside, Wed 24
Two acclaimed recent US indies.

Into the Arms of Strangers
Rio, from Fri 26
Moving true story of the children who fled Hitler.

Just, Melvin
NFT, Sat 27
The family man... devastating portrait of incestuous abuse (see Preview column).

East Drink Man Woman
Curzon Soho, Sun 28
Ang Lee's early take on Taiwanese domesticity.

Tabu
NFT, Tues 30, Wed 31
Murnau's South Seas poem, his last film.


Los Angeles Times
Calendar; Entertainment Desk
BEST BETS Friday 10/05/2000

...Movies

It's never too early to think Oscar in this town, and for documentaries the race begins with Doctober. Presented by the International Documentary Assn... The first three festivals produced six Academy Award nominees and two Oscar winners and this year should be no different...Fourteen films will be shown in eight programs on a rotating basis through Oct. 12...Friday, "Thin Ice," with the short, "Esther, Baby & Me," 10 a.m.; program of shorts includes, "The Laughing Club of India," "On Tiptoe: Gentle Steps to Freedom" and "The Concert," noon; "Night Waltz: The Music of Paul Bowles," with the short "Tales From the Reading Room," 2 p.m.; "Of Civil Rights and Wrongs: The Fred Korematsu Story," with the short "The First Freedom," 4 p.m.; "Gaea Girls," 6 p.m.; "Burning Man: The Burning Sensation," with the short "Look Back, Don't Look Back," 8 p.m.; "Just, Melvin," 10 p.m. through next Thursday. $5 to $7 per program; weeklong passes, $35. (626) 351-8939...


VARIETY
January 11, 2001
'CHUCK,' 'REQUIEM,' 'ME' LEAD SPIRIT AWARD NOMS

Forster, McCormack, Trachinger helmers to watch

"Chuck and Buck," "Requiem for a Dream" and "You Can Count on Me" topped the 16th annual Independent Spirit Award nominations, grabbing five noms each.

Nominees were announced Wednesday night in Los Angeles by host (and noms panel member) Bill Pullman, along with presenters Angela Bassett, Don Cheadle, Benecio Del Toro and Amanda Peet...

Docus true and true

Documentary filmmakers nominated for the fifth annual DirecTV/IFC Truer Than Fiction Award are Vincent Fremont and Shelly Dunn Fremont ("Pie in the Sky: The Brigid Berlin Story"), David Shapiro and Laurie Gwen Shapiro ("Keep the River on Your Right: A Modern Cannibal Tale"), James Ronald Whitney ("Just, Melvin") and Jem Cohen and Peter Sillen ("Benjamin Smoke")...Artisan Entertainment was the top distributor with 11 nominations. "Chuck and Buck" and "Requiem for a Dream" received five each, while "Ghost Dog: The Way of the Samurai" received one for best feature.

The 16th annual IFP/West Independent Spirit Awards will be presented March 14 in Santa Monica...The nominating committee besides actor Pullman included writerproducer Sherman Alexie, writer-actor Jon Favreau, casting director Mali Finn, Sundance Film Festival programmer Geoffrey Gilmore, actor and IFP/West president Vondie Curtis Hall, producer Jeff Kleeman, director Lynne Littman, New York Times film critic Elvis Mitchell, and cinematographer Nancy Schreiber. Producer Laurie Parker chaired the committee.
-- Dana Haris


VARIETY
May 31, 2000
HBO Sets Things Right With 'Just'

HBO has picked up exclusive rights to premiere James Ronald Whitney's docu "Just, Melvin," winner of best documentary nods at the Santa Barbara, Newport Beach and South Beach film fests.

Pic, which also screened at Sundance, chronicles generations of domestic abuse in a family called Just.
"We're excited to be working with Whitney to bring this unique and powerful documentary about the generational effects of evil to the widest possible audience on HBO," said Nancy Abraham, VP of original programming and documentaries.

Abraham and exec VP of original programming Sheila Nevins negotiated the deal with Whitney.
-- K.D. Shirkani

INDEPENDENT SPIRIT AWARDS
THE 16TH ANNUAL IFP/WEST INDEPENDENT SPIRIT AWARD NOMINATIONS
Spring 2001/Santa Monica
2001 IFP/WEST
SPECIAL FILMMAKERS AWARDS

At the ceremony, IFP/West also presents three filmmaker grants which will be given to an emerging director, producer, and documentary filmmaker. Each winner will receive an unrestricted grant of $20,000...The Movado Someone To Watch Award...The Motorola Producers Award...and The DirecTV/IFC Truer Than Fiction Award...

The DirecTV/IFC Truer Than Fiction Award is presented to an emerging director of non-fiction features; a filmmaker of unique vision and talent who has not yet received significant attention. The Finalists for the 2001 DirecTV/IFC Truer Than Fiction Award are: Vincent Fremont and Shelly Dunn Fremont for Pie in the Sky: The Brigid Berlin Story; David Shapiro and Laurie Gwen Shapiro for Keep the River on Your Right: A Modern Cannibal Tale; James Ronald Whitney for Just, Melvin; and Jem Cohen and Peter Sillen for Benjamin Smoke.

Even though the recipients of these grants are picked by committee, you will still have a chance to see all of the films. Check the Calendar section for dates and times.


The Times London
Saturday, Dec. 16, 2000
Film: Clive King's arthouse choice

PROVING THAT documentary is still a vibrant and exciting field, Britain's premier celebration of the non-fiction film has hit the road with a selection of entertaining and informative highlights from this year's sell-out (Sheffield International Film Festival) festival. Stops on the tour include the Watershed in Bristol, the Glasgow Film Theatre, The Barn in Dartington, Manchester's Cornerhouse, Phoenix Arts in Leicester and an additional expanded programme hosted by the National Film Theatre in London.

JUST MELVIN

THE DIRECTOR James Ronald Whitney won glowing notices for this frank account of the pain and degradation wrought on his family by his sexually abusive grandfather. Despite the subject matter the film has flashes of dark humour and moments of real warmth.

Various venues nationwide until Feb 11. For information call 0114-276 5141. www.sidf.co.uk



HOLLYWOOD REPORTER
Thursday, March 22, 2001
SPIRIT AWARDS

Eccentricity and fierce individualism dominate this year's documentary nominees...at the Independent Spirit Awards...Melvin Just's story, as told in "Just, Melvin" has a decidedly personal and sinister bent to it. The film made by moonlighting Wall Street broker (and Just's grandson) James Ronald Whitney, is a disturbing, sublimely told tale of abuse and incest perpetrated by Just upon two generations of the filmmaker's own family and their struggle to heal deep, emotional wounds.

This year's Truer Than Fiction Award winner will join an impressive group of past honorees that includes: Leon Gast ("When We Were Kings"), Danielle Garnder ("Soul in the Hole"), Errol Morris ("Fast, Cheap & Out of Control"), Barbara Sonneborn ("Regret to Inform") and Owsley Brown III ("Night Waltz: The Music of Paul Bowles"). Brown won the award in 2000.
--E.S.


IFP/West Independent Spirit Award nominees

BEST FEATURE
Before Night Falls
Crouching Tiger, Hidden Dragon
George Washington
Ghost Dog: The Way of the Samurai
Requiem for a Dream

BEST DIRECTOR
Ang Lee, Crouching Tiger, Hidden Dragon
Christopher Guest, Best in Show
Darren Aronofsky, Requiem for A Dream
Julian Schnabel, Before Night Falls
Miguel Arteta, Chuck & Buck...

THE FINALISTS FOR THE 2001 DirecTV/IFC 'TRUER THAN FICTION' AWARD ARE
Vincent Fremont and Shelly Dunn Fremont for Pie in the Sky: The Brigid Berlin Story
David Shapiro and Laurie Gwen Shapiro for Keep the River on the Right: A Modern Cannibal Tale
James Ronald Whitney for Just, Melvin
Jem Cohen and Peter Sillen for Benjamin Smoke...



HOLLYWOOD REPORTER
May 3, 2000
HBO acquires 'Melvin' docu

HBO has acquired the domestic broadcast rights to the feature-length documentary "Just, Melvin," filmmaker James Ronald Whitney's study of a family's history of sexual molestation.

The acquisition price was not available, and no broadcast date has been set for "Melvin," which focuses on Whitney's grandfather, Melvin Just, a man who sexually abused about a dozen women in his family.

James Ronald Whitney, who wrote, produced and co-edited "Melvin" and made his directorial debut with the film, said it should serve as a "wake-up call to society."

"Melvin" screened at Sundance 2000 and was awarded best documentary feature at this year's Santa Barbara (Calif.) International Film Festival and the Newport Beach (Calif.) Film Festival.

Whitney is working on a documentary about Sharon Alt, an amateur porn star who conceived a son while married to another woman.

HBO original programming division executives Sheila Nevins and Nancy Abraham represented the cabler in the deal.
-- Chris Gennusa



indieWIRE.com
Wednesday, May 3, 2000
HBO Signs Deal With "Just, Melvin"

(indieWIRE/05.03.00) -- HBO announced yesterday that they have acquired the exclusive U.S. broadcast rights to James Ronald Whitney's documentary "Just Melvin," which premiered at this years Sundance Film Festival. The film, which chronicle's the generations of abuse in one family, has won three first place prizes at film festivals including Santa Barbara, Newport, and South Beach and was a runner-up at the South by Southwest Film Festival.

The deal was struck by Whitney and HBO's, Sheila Nevins and Nancy Abraham, who said of the deal, "We're excited about working with [James Ronald] Whitney to bring this unique and powerful documentary about the generational effects of evil to the widest possible audience on HBO."

Whitney is currently in production on his next film, 'Love, Sharon' (working title), about the life of Sharon Alt, who conceived a son while she was married to another woman and her foray into the amateur porn industry.
-- Maya Churi



indieWIRE.com
June 20, 2000
Seattle International Film Festival - Just, Melvin

Like most things in life, SIFF is not all bad. One move that amounted to a virtual coup this year was the local premiere of "Just, Melvin." This harrowing documentary about generations of sexual abuse in a northwestern family was recently picked up by HBO for its American Undercover documentary series. First-time director James Ronald Whitney created the disturbing film, the reality of which was brought home by the attendance of eight of the women who are the subjects of the film. The family arrived in a limo, greeted by a small clutch of photographers (the director wanted things low-key) and astounded the audience with their courage and directness. Since the film features graphic descriptions of sexual abuse, you can bet money it will never be rented from Blockbuster.
-- Cal Godot



indieWIRE.com
October 11, 2000
Prizes for the 19th Vancouver International Film Festival were announced in two ceremonies, one on Thursday evening and the other at the closing gala on Saturday night at the Vogue Theatre... The $2,000 National Film Board Award for best documentary feature went to James Ronald Whitney's "Just, Melvin," a film about child abuse.
-- Jason Margolis and Maureen Prentice



New York Times
Wednesday, March 21, 2001
Seamy or Serious, It's Now Center Stage

In the late 1970's, when HBO was still a newfangled television network, it hastily put together a documentary unit as part of an effort to expand its programming hours from 8 to 24.

Under the direction of Sheila Nevins, a young producer out of network news, the unit went on to develop its own brand of nonfiction television that was unencumbered by the sensitivities of sponsors and regulators. Ms. Nevin's main mission was to acquire or produce programs that would create enough water cooler buzz that people who did not have HBO would feel that they had to subscribe to it or face pop-culture illiteracy.

The result: a brash and gritty style of documentary that at times has ventured toward soft-core pornography by taking viewers inside topless bars, brothels and the bedrooms of everyday couples but has also won Academy, Peabody and Emmy Awards for films on such topics as war crimes and youth violence.

Those documentaries, most under the "America Undercover" title, have now taken center stage at HBO. On March 11 they were given one of television's most coveted weekly time slots, Sundays at 10 p.m., after HBO's most watched program, "The Sopranos."

...April 22 "America Undercover" will feature "Just, Melvin: Just Evil," in which the filmmaker James Ronald Whitney "takes a hard look at the sexual abuse that was perpetrated in his own family by his grandfather, Melvin Just. He speaks to Melvin's children and step-children, almost all of whom were molested as children, and looks at the devastating legacy of sexual abuse."

...I'm Chekovian," (Ms. Nevins) said..."I believe it's dark and rainy outside almost all the time and that sex is a big laugh and we're too serious about what's fun and we're not honest enough about what's sad."
-- Jim Rutenberg



The Bremerton, WA Sun
5/28/2000
Just, Melvin
Just, the family next door

A documentary details allegations of drug and alcohol abuse, child molestation, incest, rape and murder that an area man left in his wake.

Editor's note: This story contains explicit language and disturbing references to child sexual abuse. We believe the language is appropriate in the context of this story, but some readers might find it offensive.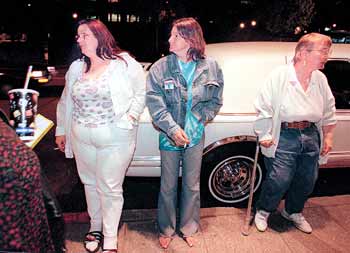 From left, Jenise Inda, Jerri Wright, and Pambi Crandall went to the
Egyptian Theatre on Tuesday to see "Just, Melvin." In the film, the three
family members told their stories about Melvin Just.
Staff photo by Melina Mara

On VH1, they'd call it something snappy like "Behind the Obituary." Today's episode: Melvin E. Just.

The Sun initially summed up the life of Melvin E. Just last summer. A one-sentence death notice. Five paragraphs appeared the next day. The 71-year-old went quickly, nicely and neatly, at least on the obituary page.

Born in Bremerton, raised in Crosby, buried in Seabeck. A local boy, Just joined the Army to fight the Communists in Korea. He returned home to live in a junkyard and work as a diesel mechanic. Only a stroke slowed him down. He spent his last days at Forest Ridge Health and Rehabilitation Center; his last day was July 31, 1999. Just left a trail of survivors: a brother, a sister, a wife, a son, three daughters, eight stepchildren, and countless grandchildren and great-grandchildren.

He lived and he died. Just like others. Or so you would have thought, had it not been for one of those grandchildren ‹ James Ronald Whitney.

Whitney couldn't wait for Grandpa Just to die. He wanted people to know how his family had suffered at the hands of Grandpa Just. And he wanted people to know while there was still time to bring Grandpa Just to justice.

So Whitney did what people do at the turn of the millennium. He made a feature-length documentary film about his grandfather and called it, "Just, Melvin." The 96-minute exposé debuted at the Sundance Film Festival in January and has been buzzing through the nation's film festival circuit since. HBO acquired the broadcast rights to "Just, Melvin" earlier this month and will showcase the documentary in a limited theatrical run in New York City and Los Angeles. The run will qualify it for Academy Award consideration.

But for all that hype, perhaps the most important screening of "Just, Melvin" happened Tuesday in Seattle, when six of Whitney's eight aunts saw themselves, telling on the big screen for the first time, the kinds of things they never expected anyone outside their family to believe.

The list of unbelievables included child molestation, incest, rape, murder, drugs, alcoholism, prostitution and repeated attempts at suicide. Whitney interspersed these intense family confessionals with lighter moments he spent on national TV with Soupy Sales and "Star Search."

Justice first came to Melvin Just in a Humboldt County, Calif., courtroom in 1978. He was convicted on 12 counts of child molestation committed on members of his family. He served about eight years in state prison in San Luis Obispo, Calif.

That's no secret.

But letting the world know that Grandpa Just was a pedophile wasn't enough for Whitney. He wanted everyone to know how his grandfather's abuse sent ripples of destruction throughout the family, how he victimized all 10 of his children and stepchildren, and how the cyclical waves of abuse crashed down on Whitney and his cousins.

And there remained one dark family secret Whitney wanted to reveal: the unsolved rape and murder of a California social worker assigned to protect the children in the late 1960s. Some of Whitney's aunts said they had the answers, had seen the body, heard what happened. Only no one would listen.

In 1994, Humboldt County authorities reopened the case. They had one suspect: Melvin Just.

Whitney decided he had to get involved in late 1997, when he learned his grandmother, Fay Just, was in a California hospital bed, where she continued to drink herself to death. He flew from New York City with a camera crew to confront Grandma Just about her role in the abuse of her children.

"It was all going to be one movie, 'Just My Family,' " Whitney said.

He hoped the cathartic experience of filming his family's dysfunctions would bring closure to the cycle of abuse that has rolled over the Justs.

"But there was so much that focused around my grandfather," he said. "I didn't care if it took me 10 years. He was either going to be arrested or he was going to be dead."

Whitney worked with the district attorney's office in Humboldt County while mounting his cinematic investigation, and said "Just, Melvin" was his way of holding Grandpa Just accountable for his sins in a way the California judicial system never would.

The viewers, acting as judge and jury, never see or hear much of a defense of Just.

June Musselman, the eldest of Just's three natural daughters, said at the screening that she always loved him but acknowledged she probably blocked out any traumatic events.

Just's second wife, Venise Just, claimed in the film to never see her husband abuse or molest the kids. She wasn't present at Tuesday's screening because her stepdaughter, Pambi Crandall, said she has a restraining order against Just. Venise Just said she doesn't plan to see the movie, and declined to comment further for this story.

The denials that matter come from the mouth of Melvin Just. We meet him late in the film and late in his life, when Whitney confronts him on the Bremerton boardwalk with the accusations. Confined to a wheelchair, Just casually munches on a Big Mac - his belly protruding from under his T-shirt - while Whitney asks him about the abuse, the molestations and the murder.

Just denied it all, even the molestations for which he served prison time.

"I didn't molest them

G-- d----n kids. But if you keep at this f---ing subject, I'm going to molest you right quick," he barked at Whitney.

How did Melvin Just get the role as the villain in the Just family's script? We never do learn that in the movie.

Whitney said Melvin Just's father, Lester Just, was known by the family as "Lester the molester." But is that an excuse? Abuse begets abuse? Whitney said it's not about excuses, but about choices.

As Whitney's uncle, Jim Lawson, said in the movie, "They say men shouldn't sleep with their daughters. But a lot of people do it." Only Lawson isn't saying that to defend his stepfather. Lawson is saying that to explain what he did: asking his half-sister Jerri Wright to move in and become his common-law wife. Lawson said in the film, "To have sex with a stepsister, I don't think that's wrong."

Wrong or not, that was the only life Melvin Just's family knew ‹ whether they lived in Bremerton, or in Carlotta, a town of 345 in Northern California's redwood country. Most of the extended family is split between these two spots along the West Coast. Some live out of their cars. One of Melvin Just's brothers lives "up in the hills" of Central Kitsap. An estranged sister is out in the Midwest. A stepdaughter in Texas.

Whitney and his mother, Ann Whitney, escaped the life earlier than the rest. They both live in New York; he, in the city, she, about 100 miles upstate.

In the documentary, James Ronald Whitney includes footage from his appearance on the game show "Body Language" in 1984 and "Star Search" in 1986 and 1987, splicing those campy scenes with intense confessional moments from his aunts.

While most people would look at a "Star Search" victory as a high point of their lives, Whitney said when he watches one particular episode, all he remembers is the call he received backstage minutes beforehand telling him his mother had attempted suicide. So when he said, "It's just something you don't forget," you know he means it.

Though "Just, Melvin" already has proven to be a hit at its first five film festivals, its director knows that he still has to sell moviegoers on the idea of sitting down to an hour-and-a-half of true emotional trauma.

"It's so easy to not come to see this movie," Whitney said. "It's so easy to ignore what's going on in the neighbor's house next door."

When he told his aunts about the project, they asked him why he would bother. No one listened to them when the abuse happened. Why should they listen now?

So the women didn't know what to expect when they rolled up in a white stretch limousine to the front of the Egyptian Theatre on Seattle's Capitol Hill. Whitney rented the limo so his aunts could feel like "movie stars," which, technically, they are.

They dressed their best for the night. June Musselman wore a dress ‹ the first time Whitney had seen his aunt in one ‹ but no shoes. Jerri Wright also arrived barefoot, sporting blue jeans with matching denim jacket and blue tie-dyed shirt.

Theater staff apparently weren't as strict as the crew at the West Bremerton Denny's, which tried to prevent the barefooted Jerri's entry Tuesday morning. She also didn't make any friends at Denny's by trying to order ‹with breakfast ‹ first a beer, then a screwdriver. At the Egyptian, she and her sisters settled for Pepsi with their popcorn.

After the screening, Musselman and Aunt Jenise Inda felt the need to answer a spectator's question: How can anyone in the family still claim to love Melvin Just after all of the suffering he caused?

"The reason I can still love him is a lot of things are blacked out," Musselman said. "I think a lot of kids do that to protect their own minds."

Inda's response: "I love my father because I developed a relationship with him as an adult."

Musselman said the film got the facts right. "We can't deny anything, because it was all honest," she said. "It was interesting to see what we all thought of each other. ... But I don't think there's going to be any arguments."

"What would we argue about?" Wright asked.

A young bearded man walked up to the sisters outside the cinema. He applauded their courage, bravery and honesty. "I cried. And I don't cry very often," the young man told them. He walked away. A couple of steps later, he turned and said, "Thank you."

One of the sisters, Denise Benson, was having a difficult time dealing with seeing her life and her family history splashed on the big screen. Benson said she had to mentally and emotionally prepare for the screening. "I focused on who could be helped by this," she said.

Childhelp USA's National Child Abuse Hotline - (800) 4-A-CHILD - receives 146,000 calls each year. But the U.S. Department of Health and Human Services estimates that there are three times as many child abuse incidents as there are reported cases.

Childhelp USA spokeswoman Rebecca Heller said "Just, Melvin" is "a powerful film that touches peoples' lives." She said Childhelp USA provided brochures at Sundance for filmgoers who may have found themselves asking, "Now what?"

Whitney hopes his film has broken the cycle of abuse in his family and can do the same for other families in similar straits.

His mother, Ann Whitney, had seen the film at its Sundance debut as well as at the South X Southwest Film Festival in Austin, Texas. She shares her son's hopes.

"The best therapy I've had in my entire life is seeing my son on that screen confront Melvin with everything he's done. ... I hope it helps the girls, too," Ann Whitney said.

"What I've emphasized to the girls - and what's so amazing - is the audience response. They really get the message of this film: to help abused children. It's working. That's good. Otherwise, what's the point?"
-- Sean McCarthy



The Bremerton, WA Sun
5/28/2000
Filmmaker Whitney is a picture of accomplishment

Just how would you pitch a documentary about James Ronald Whitney?

Would you use the director of "Just, Melvin" as a case study for ultracompetitive overachievers? Would you sell Whitney to Hollywood as Forrest Gump but with a high IQ and an acute sense of awareness? Or would you say he's just like the rest of his troubled family?

All three descriptions might fit the 36-year-old Whitney.

"I'm as f-----d up as the rest of my family,"he said Tuesday. "I just look at life differently."

That view starts with his family tree, which looks like it grew out of a "Jerry Springer"show. Whitney's father was married to Melvin Just's sister and then to a stripper/prostitute before marrying Melvin Just's step-daughter, the woman who became Whitney's mother. The branches entwined further when Whitney's aunt married Just's brother.

So don't act surprised when you learn that Whitney is a Sin City product, born in Las Vegas in 1963.

On or off camera, he's not ashamed to tell you that his uncle molested him when he was 5 - and notes that he lost his virginity to his cousin while still in the second grade.

When Whitney was 9, his father ran off with his mother's best friend and became a Hell's Angel. He saw his father for the first time since then last year while working on "Just, Melvin."

In between, Whitney and his mother kept moving.

"We moved around a lot,"he said. "As a child, I lived in Tacoma more than any other city."

He and his mother lived in Bremerton, Silverdale, Poulsbo and Brownsville before heading south, with multiple stops in Oregon and California.

Like the fictional Gump, Whitney had to wear corrective shoes as a child. Doctors told him he couldn't run.

So he danced. He started dancing professionally at 13, which led to gymnastics and cheerleading, first at the U.S.Coast Guard Academy, then at Arizona State University. He would open his own dance studio, perform on "Dance Fever," "Fame" and "Star Search,"and shake his groove thing for four years as a Chippendale dancer in Los Angeles during the 1980s.

At 21, he married the tightrope walker from the Cirque du Soleil. They divorced eight years later, though he says they're still friends.

He boasts an IQ near 160, and acknowledges he is an overachiever, brought up by his mother to compete at everything. He entered games shows as a college student, winning thousands of dollars on "Body Language" and "Scrabble."

He has owned dance shops and ice cream parlors, smuggled past customs a Peruvian monkey to raise as a pet, traveled the world, written a musical (and don't forget the film score for "Just, Melvin"), started work on creating his own universal language and numerical system, and found time to become vice president of Tucker Anthony, a stock brokerage firm on Wall Street.

He always carries his cell phone and takes stock market calls while simultaneously working the film festival circuit.

With his first film on screen and two other documentaries in the works, Whitney still makes sense out of the busy life he's created for himself.

"If anything, it's all about movement,"he said. "It's just a different kind of dance, a different type of choreography for me."
-- Sean McCarthy




Los Angeles Times
April 8, 2000
"Just, Melvin" Wins at Newport Beach Film Festival

A BIG FINISH FOR NEWPORT FILM FESTIVAL
The Newport Beach Film Festival...wound up its eight-day run with a real Hollywood ending that has organizers already looking ahead to next year..."You Can Thank Me Later" (best feature), "Just, Melvin" (best documentary), "Ave Maria" (best foreign film)......The festival's 20-member board of directors will meet in a week or two to begin discussing next year's plans.
-- Dennis McLellan



THE STRANGER
May 25, 2000
Horribly Honest: "Just, Melvin" Is More Than Just Shocking

Every time you turn on a TV or enter a bookstore, you can find someone confessing a sordid tale of childhood abuse...very little can legitimately be called shocking anymore. James Ronald Whitney's documentary "Just, Melvin"...is, in fact, profoundly shocking...Sordid though the content may be, what distinguishes the film as a work of art is its versatility of tone: Whitney cuts from victims' tearful revelations to campy footage of himself winning obscure game shows and dancing on "Star Search." This absurd disjunction seems irresponsibly flippant at first, but as the film progresses (and as I watched it a second and third time), it takes the shape of a necessary intrusion of hope--in a peculiar form, perhaps, but hope nonetheless. Along with footage of the women laughing and clowning around, these interludes show that the dominant intent of the piece is not to generate pity, but to reveal honesty, and to redeem the struggle of muted human beings who've spent a lifetime trying, one way or another, to speak. I interviewed director James Ronald Whitney by phone as he was preparing for the first [Seattle International Film Festival] screening of "Just, Melvin," which was to be attended by the women chronicled in the film. For all but two of them, it would be their first time seeing the film.

Q: Are you at all worried about what their reaction is going to be? Do you worry that they might think the film is exploitive?

JRW: Not at all. First, I don't worry about things in general. My heart and soul was in this. [My family] had one concern, and that was that it was going to be a film that ultimately could help other kids, that it could be a sort of wake-up call to society. This is so far surpassing what they ever thought they'd be doing to help out other people; they'll be thrilled to death. I mean, we're definitely going to have some fights around the dinner table..."Why did you put that in the film?!" At least, I hope so. Otherwise, it's not as incredibly honest as I needed it to be. And they're also very resilient people. They've gone through so much--obviously. The fact that something positive can come out of this mess...I think they're going to be excited about it.

Q: These are the most intensely personal things that people can talk about, even in private, much less in front of a movie camera. But their candor is totally shocking. Did they go along with the idea of the film right away?

JRW: For my family, it wasn't James Ronald Whitney, director, they were talking to--it was their cousin or nephew, Ronnie. I think in the back of their minds they were thinking, "this is a wonderful project for him, but it's probably not going to amount to anything"...I knew that when I was filming them, I just wanted them to be themselves. I didn't want any kind of control. I wanted it to be horribly honest.
-- Sean Nelson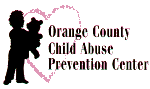 Orange County Child Abuse Prevention Center
NEWS ADVISORY FOR THURSDAY, APRIL 6, 5:45 PM

The Orange County Child Abuse Prevention Center will participate at the 5:45 pm West Coast Premiere screening of "Just, Melvin," part of the Newport Beach Film Festival, on Thursday, April 6 at the Edwards Island 7 Cinema... "Just, Melvin," produced and directed by James Ronald Whitney, is a chilling and candid portrait of the cycles and consequences of abuse. Whitney, the grandson of Melvin Just, tells the story of his mother who was abused and molested from a very early age, as were all her sisters and step-sisters. The cast includes Ed McMahon, Soupy Sales, Tom Kennedy and Abby Dalton. "Just, Melvin" premiered at the Sundance Film Festival to much critical acclaim, received the top award (presented by Jimmy Smits) at the Santa Barbara International Film Festival and was runner-up at the South by Southwest Film Festival. Details Magazine said of the film, "'Just Melvin' is a harrowing American Gothic family portrait full of humor, insight and rage, and is easily the most jaw-dropping documentary to come along in a decade." Roger Ebert gave it a thumbs up.
-- Kathy Berry



indieWIRE.com
March 20, 2000
Santa Barbara's Grand Ambitions, Out of Reach or Just in Sight?

As its artistic director and former film producer Renče Missel says, "I want us to be a cross between Telluride and Sundance, a mini market and a festival where one can see terrific films, and be a meeting place for filmmakers.
...In addition to "Me & Isaac Newton" by Michael Apted and "Barenaked in America" by Jason Priestly, the documentary program included quite a few films just off the boat from Sundance, such as "Americanos! Latino Life in the United States" by Susan Todd and Andrew Young, "Legacy" by Tod Lending, "Long Night's Journey into Day" by Frances Reid and Deborah Hoffman, and "Scottsboro: An American Tragedy" by Barak Goodman and Daniel Anker, as well as James Ronald Whitney's brave "Just, Melvin" about the shocking cycles of child abuse, incest and depression in his own family, which won here the Body Shop's Insight Award for best documentary.
...Still, Santa Barbara guaranteed celebrity attendance by honoring a number of screen giants throughout the week. Sir Anthony Hopkins received the annual Modern Master Award. Hopkins chatted with Leonard Maltin, who showed clips of the actor's work in front of hundreds of fans, including Jodie Foster, who made the trip from LA for the occasion.
More touching still was Richard Pryor receiving the first annual Lifetime Achievement Award, as part of the festival's celebration of the art of comedy. Several comedians including Lily Tomlin honored the great funnyman... Other comedians recognized were Whoopi Goldberg with the Ruby Award and Ivan Reitman with a special tribute.
-- Andrea Meyer



Santa Barbara NEWS-PRESS
March 13, 2000
Film Festival Comes To An End

After star-studded appearances by Richard Pryor, Anthony Hopkins, Whoopi Goldberg, Ivan Reitman and Jimmy Smits, the Santa Barbara International Film Festival lowered the curtain on this year's event Sunday night.
In addition to attracting celebrities, the annual festival has become a popular showcase for independent films over the last 15 years. Nearly 40,000 people attended movies or events at this year's festival.
Closing night ceremonies featured a screening of the Jimmy Smits movie, "The Price of Glory," directed by Carlos Avila, as well as an Awards ceremony for the independent films that were shown during the 10-day festival.
...Smits presented the Body Shop's Insight Award to James Ronald Whitney, who wrote and directed "Just, Melvin," a documentary about the filmmaker's grandfather who had molested his mother, sisters, and step-sisters and how they survived to share these family secrets.
"Documentaries are often a labor of love for the filmmaker," he said. "They work for years to bring stories to their audiences."
Whitney thanked his mother for the honor, saying, "The award means a lot. It's such a personal film."
-- Joshua Molina



HOLLYWOOD REPORTER, SANTA BARBARA, Calif.
March 13, 2000

...Film producer Renee Missel's third go-around as Santa Barbara's artistic director featured a broad selection of independents, foreign films, documentaries, seminars and several popular on-stage tributes and retrospective screenings at Santa Barbara's vintage movie palaces the Granada and Arlington...
The live events honoring Richard Pryor, Anthony Hopkins, Whoopi Goldberg and Ivan Reitman were high points for the perennially star struck locals, although the festival located in such rich showbiz haunts as the Santa Barbara area still struggles to bring out the stars. Still, joining the very emotional event for the wheelchair-bound Pryor was Lily Tomlin, while Jodie Foster was on hand for Hopkin's acceptance of the fest's Modern Master Award, which was presented by Edward Norton.
The official jury and audience awards were handed out Sunday evening before the screening of the closing-night film, New Line's "The Price of Glory," with star Jimmy Smits and filmmaker Carlos Avila in attendance. Two separate juries--one for features, the other for documentaries and shorts--gave out 12 Awards.
In addition to winning the Independent Voice Award for a U.S. or Canadian feature with no distribution, "Post Mortem"--the debut of Montreal-based writer-director Louis Belanger--also won the IFILM.com Special Jury Prize for Artistic Merit, which includes $4,000 in cash...The Insight Award for best documentary feature went to James Ronald Whitney's "Just, Melvin."
-- David Hunter


CNN.com
SUNDANCE FILMS IN COMPETITION
January 21, 2000

(CNN) -- Thirty-two movies are competing for two Grand Jury Prizes at the Sundance Film Festival: 16 in the dramatic competition, and 16 in the documentary competition. Here's the list...

Documentary Competition:
"Americanos: Latino Life In the United States," directed by Susan Todd and Andrew Young
"The Ballad of Ramblin' Jack," directed by Aiyana Elliott
"Coming To Light, Edward S. Curtis and the North American Indians," directed by Anne Makepeace
"Dark Days," directed by Marc Singer
"The Eyes of Tammy Faye," directed by Fenton Bailey and Randy Barbato
"First Person Plural," directed by Deann Borshay Liem
"George Wallace: Settin' the Woods on Fire," directed by Daniel McCabe and Paul Stekler
"Just, Melvin" directed by James Ronald Whitney
"Legacy," directed by Tod S. Lending
"Long Night's Journey Into Day," directed by Frances Reid and Deborah Hoffmann
"Nuyorican Dream," directed by Laurie Collyer
"Paragraph 175," directed by Rob Epstein and Jeffrey Friedman
"Scottsboro: An American Tragedy," directed by Barak Goodman and Daniel Anker
"Sound and Fury," directed by Josh Aronson
"Stranger with a Camera," directed by Elizabeth Barret
"Well-Founded Fear," directed by Shari Robertson and Michael Camerini



VARIETY
March 13, 2000
S.B. Fest Concludes with Awards

The Santa Barbara Film Festival concluded its 15th edition Sunday with the presentation of awards to an array of pictures...
The Body Shop's Insight Award for best feature doc, which includes a $2,000 cash prize, was given to James Ronald Whitney's "Just, Melvin."
The Santa Barbara Independent Audience Award, chosen by popular ballot, was voted to Regis Wargnier's "East/West" from France, while the Lumina Award for best cinematography was presented to Spanish lenser Javier Aguirresarobe for "The Girl of Your Dreams."
-- Todd McCarthy



iF Magazine
March 17, 2000
South by Southwest 2000

...I catch "The Target Shoots First," the grand prize winner for Best Documentary Feature...Target won two prizes at Slamdance and concerns the two year adventure of Christopher Wilcha... who goes to work for The Columbia House...Wilcha was allowed amazing access to film his co-workers gossiping, fighting and even attending motivational retreats. Contrasting his own corporate coming of age with the suicide of Kurt Cobain (the footage is mostly from 1993)...I exit the Alamo entertained and disappointed. JUST, MELVIN, which tied for Best Doc runner up was the far superior film, and it's going to take a mess of Austin crawfish to make me forget.



iF Magazine
March 15, 2000
AWARD WINNERS...MOORE'S THE MERRIER

Cult hero director Monte Hellman...is in town to receive a special award that climaxes the (ultra rare) showings of several of his films and a still photography exhibit. It should be the highlight of the night, but the crowd only applauds politely, saving their hand thunder for when director Michael Moore presents the Best Documentary Award. A surprise presenter, Moore explains, "I happen to be in your town, we were shooting your governor." The audience laughs at the idea of Moore chasing Texas governor and Republican presidential candidate George W. Bush...
...Moore, a staunch opponent to capital punishment, goes on to tell the audience that while governor of Texas George W. has greased 125 murderers, his baby brother Jeb, the governor of Florida, has only offed three. "Talk about your sibling rivalry," Moore laughs as the audience nearly busts a gut. "But I finally cornered him tonight," Moore says, "And he said, 'Behave yourself Michael, go get a real job.' And I thought, 'Oh yeah, like the one your DADDY got YOU!?' " The audience roars its approval as the kid next to me mutters, "I thought he was here to present an award." And present he finally does.
After working the crowd like a seasoned vet comedian to promote his Independent Film Channel cable show, he eventually announces the runners up (it's a tie, like most categories this evening) are JUST MELVIN (the searing abuse drama about three generations tormented by one old grandfather) and "The Ballad of Ramblin' Jack" (a warts-and-all-look at the legendary musician by his daughter Aiyana Elliot).
Then after a little confusion and more jokes (these Awards ARE fun, dammit) the first prize goes to "The Target Shoots First"...As the absentee director is bestowed with numerous gifts, Moore suddenly shouts, "What do the runner ups get?" When it's ascertained to be zilch, Moore adds magnamoniously, "Then we're giving them both $5,000 from the our foundation."
-- Paul Zimmerman



VARIETY
March 17, 2000
South by Southwest Honors Participants

The South by Southwest Film Festival bestowed its Awards late Tuesday, though the fest continues in Austin, Texas, through Sunday.
...Docus "The Ballad of Ramblin' Jack" and "Just, Melvin"--both of which unspooled at the Sundance Film Festival in January--were runners up, though each received a surprise special prize award of $5,000 from documentary filmmaker Michael Moore, who happened to be filming in Austin and stopped by the Awards.
Louis Black hosted the ceremony, with filmmakers D.A. Pennebaker and Monte Hellman in attendance.
-- Charles Lyons



indieWIRE.com
March 31, 2000
SXSW Dispatch of Warm Filmmaker Friendly Fun

I was extremely excited to finally attend what I heard was on of the coolest and most filmmaker friendly festivals to ever exist. Austin, Texas has been a desired film fans' destination ever since Richard Linklater's "Slacker," but the South by Southwest Film Festival was giving me plenty of reasons to show up too... guess I was on a documentary jag, because next I saw a very disturbing and personal film "Just, Melvin" by James Ronald Whitney. I had heard a lot about the film from its Sundance premiere, but I was absolutely unprepared to see the devastating effects of generations of sexual abuse on a truly tortured family...A quick power dinner and then it was off to the Awards ceremony placed oddly in the middle of the film festival.
A few highlights of the evening...the hilarious Michael Moore presented the documentary prizes (first place went to "The Target Shoots First"). But when the "Roger and Me" director realized that the two runners up ("The Ballad of Ramblin' Jack" and "Just, Melvin") didn't get cash, he gave them each $5,000 towards their next production -- what a guy!



THE STRANGER
May 25, 2000
Reflections In A Golden Space Needle

Those who made it to the piss-poor Kenneth Branagh film for the opening night of [Seattle International Film Festival] were treated to the gruesome spectacle of Alicia Silverstone taking the stage at the Paramount and bravely conquering her speech impediment-slow-wittedness-to brag about her vegan lunch at Cafe Flora. What better set-up for 93 minutes of cinematic blithering? Fortunately there was an antidote: liquor...Thankfully there are some great films coming up to help us forget that the festival has watered down its primary mission. There's the feverish Russian collage "Kroustaliov, My Carl;" the insane and beautiful documents "Just, Melvin"...Lastly..."Silence!," a film guaranteed to be like nothing you've ever seen...Honest.
-- Jamie Hook


Registered Representative
The Number ONE Magazine For Retail Stockbrokers
Broker Profiles
Finding Justice on Film

In 1997, when James Ronald Whitney, a broker at Tucker Anthony in New York, was speaking on the phone with screenwriter Jim Hart about a Broadway musical Whitney had written, Whitney's mom beeped in to tell him his grandmother was dying.
When Whitney clicked back to Hart, Whitney had a new idea. He thought a story about his incredibly dysfunctional family "would be amazing as a film." But he needed to get information from his grandmother before she died.
Whitney doesn't waste time. "An hour and a half later, I had the treatment [of the film] done," he says. "Later that day, I had booked flights, hotels and ordered film."
What was the story? "When you grow up with a suicidal mother, you're constantly asking, 'Why?'" he says. "I realized it had to do with [sexual] abuse by Melvin Just," Whitney's grandfather. "He was abusing most of the family, and raped and murdered a social worker in front of three of them."
In fact, Just, a junkyard mechanic in Carlotta, Calif., molested 10 of his children and stepchil-dren. Although the abuse was reported to authorities, Just was only charged with some of the crimes in 1978. "He was sentenced to 13 years and served eight," Whitney says.
The social worker, Josephine Spegel, was sent to the Just home to help the children. She was strangled on March 10, 1969. "He killed her and got away with it," Whitney says.
The case was reopened in the mid-90s, and Just took a polygraph. "Minus seven is lying. He was minus 16," Whitney says. The detective tried to get the district attorney to bring him to trial, but Just suffered a stroke and his neuro-surgeon wouldn't let the police interview him.
Since the courts had failed Whitney's family he decided to try Just "in the court of public opinion," he says. "When I started making the film, I promised the audience I wouldn't stop until he was in jail or dead."
Whitney got his wish. On July 31, 1999, a few months after Whitney's last interview for the film, Just died.
Since its January 2000 premiere at the Sundance Film Festival, "Just, Melvin" has won best documentary at four film festivals in the United States and Canada. HBO bought the rights and will air the film Sunday, April 22.
Whitney was screenwriter, co-producer, co--executive producer, co-editor and co-music writer. On camera, Whitney confronts his grandfather about the molestation. Just denies the abuse. "At one point he threatened to molest me if I asked him any more questions," he says. And although he was never physically abused by Just, Whitney openly reveals that an uncle molested him at age five.
Whitney pursued the film to bring attention to the horrors of child abuse. "I'm so proud of my family for having been as honest, open and coura-geous as they were," he says. "They're so strong. They've gone through so much."
-- Tracy Herman

Broker James Ronald Whitney wrote, produced and directed an award-winning documentary film about his sexually abusive grandfather, Melvin Just.




The Bremerton, WA SUN
OPINION
June 11, 2000
YOUR VIEWS

Start petitions, sign letters, and pay tickets at this interactive Town Hall. Visit E-The People Melvin Just Not just family problem To the Editor: I say bravo to the creator of "Just, Melvin" (May 28) being a survivor of childhood abuse of many kinds. I think it is about time people understood that abuse isn't a family problem that should not be discussed with anyone else. It's a legal matter that should be prosecuted to the fullest extent of the law. The public should know who these people are so the can protect their children from them. Unfortunately, there are still ignorant people out there who would like to cover up the disgrace of having a sex offender in their family. That only allows the offender to keep offending. Speak up and speak loud so that everyone knows you will not allow this to happen again and again.
Publicly humiliate the abusers so they will think twice about doing it again. Help the victims to know that they did nothing wrong. Help them to get justice for themselves. Support the victim, not the abuser. And then maybe the rate of abuse will fall instead of rise every year. It's unfortunate that Melvin died before his story could be told, so he could feel some of the pain that he inflicted on his victims.
Nancy Tucker - Port Orchard





The Bremerton, WA SUN
OPINION
June 11, 2000
Thanks for story
To the Editor:

Thank you for the informative front-page article about the documentary, "Just, Melvin." Breaking the cycle of abuse is a difficult, ongoing process. James Ronald Whitney is to be applauded for his insight and courage to confront abusive family members. Letting the victims tell their stories and be heard is a very healing experience, that they are believed is even more so. Incest and abuse in Kitsap County families is nothing knew, but talking about it is. Families can circle the wagons when someone decides to tell the "family secret." It is wonderful that so many in the Just family have helped document their family history with the truth. They are healthier than most people would give them credit. They have already accomplished a great deal. Taking the door off the family closet and a "no more secrets" policy is the only way to stop the cycle of abuse and incest.
James Ronald Whitney deserves more than an Academy Award for this documentary. He has given his aunts a means of breaking the cycle of abuse and has changed the family history forever. Some day soon there will be a generation in this family that will not have been abused or molested by other family members.
This family is on the road to recovery already. I wish them well! This county still has some abusers who have molested for decades. No one has had the courage to confront them publicly. I hope this article and the documentary, "Just, Melvin" will give those the courage they need to stop the cycle of abuse in their own families. Sean L. McCarthy has written an article worthy of an award as well.
Kathryn Jenkins Trostad - Poulsbo





The Bremerton, WA SUN
OPINION
June 18, 2000
Thanks for story
To the Editor:

I want thank you personally for your front-page story regarding Melvin Just on May 28.
I have lived a large part of my life feeling there is no justice. But thanks to my son, James Ronald Whitney, and his relentless pursuit to expose the legacy of destruction that Melvin Just created, and the interest, support and coverage by my hometown newspaper, The Sun, I now have a restored faith in God and humanity.
With the documentary, "Just, Melvin," I feel that justice is being served. Your publication has become one of the most significant events to happen to his victims who are featured in the documentary.
It is finally a first step toward a healing process that may take some of them the rest of their lives. Most important, for the victims, is that they know we hear them, we believe them and we really care. They are excitedly aware that the sacrifice they made in telling their story is already helping others.
If the exposure of Melvin Just has caused any pain to anyone, I am sorry. But not as sorry as I am for his victims - and other victims of Melvin Just are now speaking up for the first time.
I thank all of you at The Sun for your overwhelming contribution.
Please use the number for Child Help U.S.A. (800-4-A-CHILD) if you know of anyone who is being or has been abused or molested!
Ann Marie Lawson Whitney - Mount Kisco, N.Y.